Shopping Cart
Your Cart is Empty
There was an error with PayPal
Click here to try again
Thank you for your business!
You should be receiving an order confirmation from Paypal shortly.
Exit Shopping Cart
| | |
| --- | --- |
| Posted on March 2, 2021 at 6:45 PM | |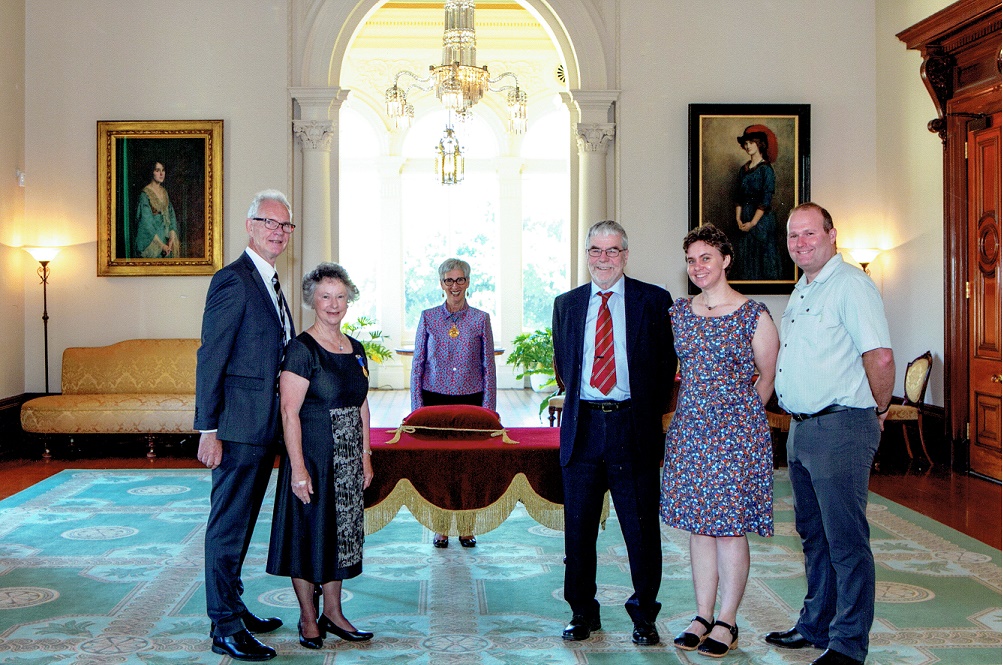 Susan Clutterbuck's work was recognised "for services to the deaf and hearing impaired" with the award of the Order of Australia Medal in the Australia Day honours 2020. Due to COVID restrictions the official presentation by the Governor of Victoria, Linda Dessau, was not held until December 2020. Susan says "It was a great honour to receive this award which recognises many years advocating for high standards of service for the needs of people with hearing problems. I would also like to acknowledge the many mentors and colleagues who have inspired and supported me."
Susan was supported at the presentation by Neil Clutterbuck, Dr Julie Clutterbuck and Sean Clutterbuck as well as Ray Thornhill who continues to provide systems support for EARtrak.
| | |
| --- | --- |
| Posted on March 8, 2017 at 10:05 PM | |
Australian hearing aids outcomes measurement consultant, EARtrak, has welcomed the Australian Competition and Consumer Commission report into issues around the sales of hearing aids.
The ACCC investigation and report raises some serious concerns both within the industry and amongst consumers about the emphasis on selling hearing aids.
The report also called on hearing clinics to consider remuneration structures that reward quality advice and service ahead of sales.
EARtrak spokesperson, Tracey Matthies, said hearing aid consumers should be able to rely on clinicians to provide independent advice based on achieving the best possible outcomes for each client.
"At EARtrak, we encourage hearing aid consumers to seek out providers who have a demonstrable practice of measuring client outcomes and satisfaction as part of their quality management process," Ms Matthies said.
"We have made representations to the Office of Hearing Services arguing that the current system simply rewards contracted clinicians for fitting aids to ears without any measurement of client outcomes or reporting of those outcomes to enable clients to choose providers based on quality," Ms Matthies said, "The ACCC's recommendation that remuneration of hearing care providers should reward service and quality advice is a step in the right direction for consumers."
She said it was essential that hearing aid consumers had access to data that allowed them to make informed choices about providers.
About EARtrak:
EARtrak is an independent data consultant company based in Victoria, Australia providing a hearing aid satisfaction survey that allows clients to provide unfiltered feedback to hearing care providers.
EARtrak is based on three key premises:
1. That hearing aid users deserve the best possible outcomes with their hearing aids
2. That hearing service providers want to deliver the best possible outcomes for their clients
3. That prior to making purchasing decisions, hearing aid users have the right to independently collected information about the outcomes achieved by providers
Contact:
Tracey Matthies
Chief Executive Officer
Ph. 03 5133 6111 / 0448 543 861
Email [email protected]
| | |
| --- | --- |
| Posted on September 14, 2016 at 12:10 AM | |
Congratulations to Gippsland Audiology which has been awarded the maximum five stars under the EARtrak Quality Certification.
This award recognises the practice's excellence in five key areas:
Independent validation of client outcomes
Continuing commitment to quality improvement
Client satisfaction with hearing improvement
Client satisfaction with hearing aid performance
Client satisfaction with service delivery
Below: EARtrak CEO., Tracey Matthies, left, presents Andrew and Meg Miklosvary with their five star quality certification certificate.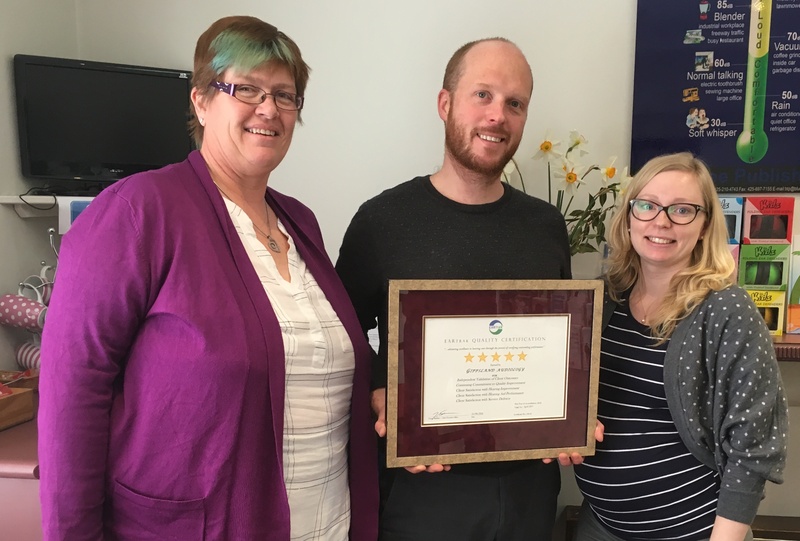 | | |
| --- | --- |
| Posted on December 16, 2015 at 9:50 PM | |
The EARtrak team is taking a well-deserved break over the Christmas New Year period. 
The office will be closed from midday on Christmas Eve and reopening on Wednesday 6 January 2016.
We will be monitoring emails and phone messages across the holiday period. 
From the EARtrak team to you and yours, we wish you a safe and happy Christmas and a prosperous New Year.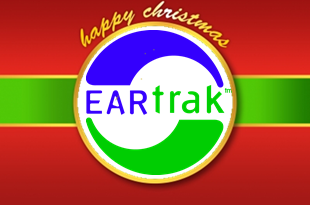 | | |
| --- | --- |
| Posted on June 9, 2015 at 2:10 AM | |
EARtrak's hearing aid satisfaction survey is now available as a fully online service with the option of personalised surveys!
From registration through to sending out survey invitations to your patients, and receiving your practice reports, it can all be done online. 
EARtrak Chief Executive Officer, Tracey Matthies, said it was a natural development as internet usage increased across all age groups. 
"Various studies have shown that the number of older Australians and Americans using the internet is always increasing," she said, "And that means that as service providers, we have to avoid ageist beliefs about older people being unable to learn and unwilling to adopt new technologies."
In recent months, online EARtrak responses were received from patients aged from their 50s through to their 90s.
"The United States is a clear leader in the adoption of technology, and for that reason, we are now offering EARtrak solely as an online service there," Ms Matthies said. 
Existing Australian practices using the EARtrak process will be encouraged to transition over the coming 12 months, while new Australian practices will be invited to register for the online process. All Australian practices will have the option of ordering additional paper surveys and reply paid envelopes until the transition is complete. 
Practices registering for an online package can opt for personalised surveys which includes their practice name as well as the names of their practicitioners and clinic sites.
Patients are more likely to respond to a personalised survey yet still have the assurance that their responses are going to an independent data consultant. It also makes it easier for patients to correctly name their practictioner and clinic.
Follow this link to learn more about EARtrak's online packages or to order additional paper surveys and reply paid envelopes. 
| | |
| --- | --- |
| Posted on May 31, 2015 at 11:30 PM | |
A tool developed by EARtrak and practicing audiiologists to help patients and clinicians to identify communication difficulties, plan appropriate management and to evaluate treatment effectiveness, is already winning industry praise.
Colorado audiologist, and founder of Cut to the Chase Communication, Dr Dusty Jessen, says the PACA assessment tool is "fabulous - simple, quick, and effective."
Dr Jessen told EARtrak she can't wait to use it in her clinic and share it with her colleagues.
| | |
| --- | --- |
| Posted on April 23, 2015 at 1:00 AM | |
Consumers are becoming increasingly aware of the value of selecting quality hearing healthcare providers - and EARtrak plays a valuable role in that process.
At EARtrak, we regularly receive emails asking for recommendations. For example, we received this email just this month:
"I am about to seek out my first hearing aid, and would appreciate advice as to hearing service providers in my area who are rated by Eartrak as demonstrating commitment to client service and integrity."
| | |
| --- | --- |
| Posted on January 20, 2015 at 9:50 PM | |
Welcome to the new EARtrak website.
We are very excited with the crisp, modern look of the site.
Take a few minutes to explore the site and be sure to let us know what you think!
Is there anything missing?
Do you have any questions?
Maybe some suggestions?
Your feedback is welcomed. 
/